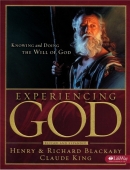 Experiencing God: Knowing and Doing the Will of God (Member Book)
LifeWay Christian Resources
Richard Blackaby, Henry Blackaby, and Claude King
This revised and expanded edition guides learners to experience the kind of relationship with God through which they come to know and do His will. Through examination of biblical and contemporary illustrations, participants will understand and apply 7 realities of experiencing God.
Copyright © 2008 Richard Blackaby, Henry Blackaby, and Claude King
As an Amazon Associate Training for Transformation earns from qualifying purchases.