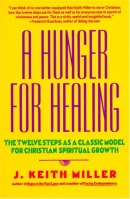 A Hunger for Healing
HarperCollins Publishers
J. Keith Miller
Keith Miller shows how the Twelve Step recovery program can be used to draw a person to a profound and life-changing relationship with Jesus Christ. He carefully examines each step from a biblical perspective and helps the reader to clearly grasp the nature of biblical repentance and renewal found in the Steps.
Copyright © 1991 by J. Keith Miller
As an Amazon Associate Training for Transformation earns from qualifying purchases.