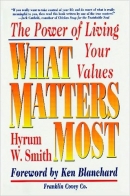 What Matters Most
Free Press
Hyrum W. Smith
In What Matters Most, author Hyrum W. Smith explains why so many people feel something is missing from their lives because of conflicts between actions and personal values. Through compelling examples from others and from his own extensive experience, Smith outlines a simple but powerful formula to help you identify your own values and live them to the fullest. This strategy consists of three valuable steps: discover what matters most to you, make a plan, and act on that plan.
Copyright © 2000 by Franklin Covey Co.
As an Amazon Associate Training for Transformation earns from qualifying purchases.