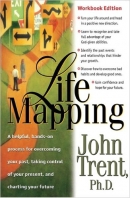 Life Mapping
The Doubleday Religious Publishing group
John T. Trent
LifeMapping is a powerful tool that will help readers leave behind the things that have held them back in life, establish clear, realistic goals, and take positive, concrete steps to live the kind of life they've always wanted to live. DO YOU KNOW WHERE YOU'RE GOING? We may want to move ahead spiritually, professionally, or in our interpersonal relationships. But many of us are speeding down the road of Life without much thought about our destination. We're traveling fast, but without a map, and it's hard to know where we'll end up. Counselor and author John Trent has developed a powerful tool that will help you map out a course for your life and get you to your destination. This fresh way of looking at your life involves taking a revealing review of the events and patterns in your past in order to develop a "storyboard" of where you've been, where you are, and where you're heading. Trent presents a revolutionary, biblically-based concept for breaking free of the past and charting a new course to a brighter future. This interactive approach is a powerful tool for anyone who has unsuccessfully tried to change.
Copyright © 1998 by John T. Trent
As an Amazon Associate Training for Transformation earns from qualifying purchases.