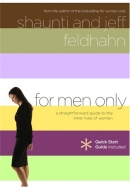 For Men Only
Waterbrook Multnomah Publishers (Waterbrook Press)
Shaunti and Jeff Feldhahn
The bestselling author of For Women Only has joined with her husband to help men understand women better. Women can be very complicated at times, but by applying simple truths to your relationship, you might find they're actually quite simple to figure out. Don't keep guessing what makes your wife or girlfriend happy—read this insightful map and find the highway to her heart with a much less bumpy ride.
Copyright © 2006 by Veritas Enterprises, Inc.
As an Amazon Associate Training for Transformation earns from qualifying purchases.