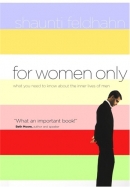 For Women Only
Waterbrook Multnomah Publishers (Waterbrook Press)
Shaunti Feldhahn
Why is respect more important to husbands than love? Do men have an inner vulnerability? Why does sex unlock a man's emotions? Is a wife's appearance important? This groundbreaking book unmasks men's inner wiring and equips wives to meet them at the point of their deepest needs.
Copyright © 2004 by Veritas Enterprises, Inc.
As an Amazon Associate Training for Transformation earns from qualifying purchases.