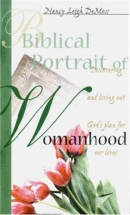 A Biblical Portrait of Womanhood
Life Action Ministries
Nancy Leigh DeMoss
Nancy Leigh DeMoss highlights specific Scriptures that reveal God's design for the lives of women. Through a series of penetrating questions, discover how well you are
fitting into His plan. Learn practical ways that you can influence and "build up" the lives of those around you, through your attitudes, words, and actions.
Copyright © 1999 by Nancy Leigh DeMoss
As an Amazon Associate Training for Transformation earns from qualifying purchases.