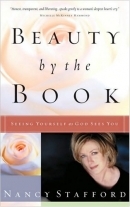 Beauty by the Book
Waterbrook Multnomah Publishers (Waterbrook Press)
Nancy Stafford
From celebrated Hollywood starlets to the covers of Cosmo, our society seems obsessed with beauty. Actress and Main Floor host Nancy Stafford (best known for her starring role as Michelle Thomas on Matlock) digs below our culture's fixation on outward appearance to show you that true beauty is more than skin-deep. "Every woman has beauty," says Stafford, "but not everyone sees it. I want you to see it." In Beauty by the Book she bares her heart to readers, laying out the Scriptures, promises, and truths women need to know to find their true value. Her liberating reflections will help you see yourself as God sees you -- worthy, lovable, and beautiful.
Copyright © 2002 by Nancy Stafford
As an Amazon Associate Training for Transformation earns from qualifying purchases.