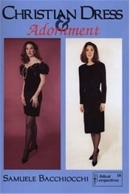 Christian Dress and Adornment
Biblical Perspectives
Samuele Bacchiocchi
This book examines the Biblical teachings regarding dress, cosmetics, and ornaments. Seven basic principles regarding dress and adornment are developed from a careful analysis of the relevant Biblical passages. Two chapters address the specific questions of the wedding ring and of the unisex fashion promoted today. Christian Dress and Adornment is an important book designed to help Christians distinguish between the capricious mode that changes and the sensible style that remains.
Copyright © 1995 by Samuele Bacchiocchi
As an Amazon Associate Training for Transformation earns from qualifying purchases.