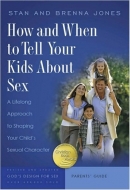 How and When to Tell Your Kids About Sex
NavPress
Stan Jones, Brenna Jones
This book will help you establish a biblical view of sexuality for your kids. Learn how and when to talk with your children about sexual curiosity, physical changes of puberty, dating, chastity, and more. It is the overview in the 5-book God's Design for Sex series.
Copyright © 1993, 2007
As an Amazon Associate Training for Transformation earns from qualifying purchases.