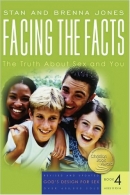 Facing the Facts: The Truth About Sex and You--Book 4 (Ages 11 to 14)
NavPress
Stanton and Brenna Jones
Designed for children ages 11-14, Facing the Facts equips kids to understand and deal with the changes of puberty. It also examines why God intends sex for marriage, discusses love and dating, and answers tough questions about sexuality. This is Book 4 in the 5-book God's Design for Sex series.
Copyright © 1995, 2007
As an Amazon Associate Training for Transformation earns from qualifying purchases.