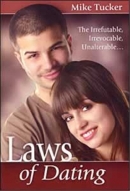 Laws of Dating
Pacific Press Publishing Association
Mike Tucker
You can find your Mr. Right, or Ms. Right, and experience a satisfying, joyful, and lasting marriage! Dating should be fun. But too often it isn't. Pastor and counselor Mike Tucker offers a few words for the wise. His laws of dating apply regardless of your age, socio-economic status, race, or gender. You need to know what kind of person you are looking for before you find him or her. What are your expectations for the relationship? You must know what qualities you and your future partner need to possess to make your dream relationship a reality. This book is designed to help you do just that." In this book, Mike also deals with abusive and controlling partners in dating relationships, both in terms of recognizing the problem and how to deal with it.
Copyright © 2007 by Pacific Press Publishing Association
As an Amazon Associate Training for Transformation earns from qualifying purchases.