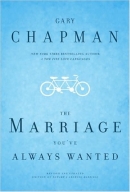 The Marriage You've Always Wanted
Moody Publishers
Gary Chapman
Marriage is God's answer for our deepest human need - companionship. And that, according to counselor and relationship expert Dr. Gary Chapman, is to have deep and lasting union with another, and to truly become one. But how can you build that oneness from the beginning? Formerly titled Toward a Growing Marriage, Dr. Chapman covers topics like meaningful communication, expectations, and money management. Questions at the end of each chapter encourage interaction between husbands and wives. Includes an updated resource list at the end of the book.
Copyright © 2005, 2009 by Gary Chapman
As an Amazon Associate Training for Transformation earns from qualifying purchases.