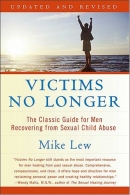 Victims No Longer
HarperCollins publishers
Mike Lew
The first book written specifically for men, Victims No Longer examines the changing cultural attitudes toward male survivors of incest and other sexual trauma. Now, in this Second Edition, this invaluable resource continues to offer compassionate and practical advice, supported by personal anecdotes and statements of male survivors. Victims No Longer helps survivors to: identify and validate their childhood experiences; explore strategies of survival and healing; work through issues such as trust, intimacy, and sexual confusion; establish a support network for continued personal recovery; make choices that aren't determined by abuse. … Thoroughly updated and revised, and including an expanded Resources section, Victims No Longer educates survivors and professionals about the recovery process -- speaking to the pain, needs, fears, and hopes of the adult male survivor.
Copyright © 2004 by Mike Lew.
As an Amazon Associate Training for Transformation earns from qualifying purchases.