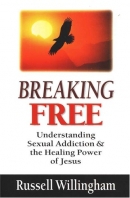 Breaking Free
InterVarsity Press
Russell Willingham
Willingham deals with issues such as what all addicts have in common, the hunt of the malnourished heart, where to find courage to face the dark side, wrestling with shame and grace, and the healing effect of radical honesty. This realistic yet hopeful book offers a new way to see the world for every person who wants to understand and break free from sexual addiction.
Copyright © 1999 by Russell Willingham
As an Amazon Associate Training for Transformation earns from qualifying purchases.