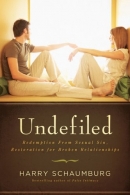 Undefiled
Moody Publishers
Harry Schaumburg
If only sexual sin could stay outside the church's walls! Instead, God's people are as susceptible as anyone else. Adultery, divorce, homosexuality, pornography, gender confusion, prostitution, incest—author Harry Schaumburg has seen all of these and more in thirty years of counseling Christian couples, pastors, and ministry leaders. Yet he firmly believes there is a path to freedom and purity and restoration. The way is hard. Half-measures won't work. Twelve-step programs, accountability groups, and purity pledges don't go deep enough. But if you're ready to pursue sexual and relational healing wholeheartedly, under God's direction, then this book—Undefiled: Redemption from Sexual Sin, Restoration for Broken Relationships—has a message for you. ... DON'T GIVE UP YET.
Copyright © 2009 by Harry Schaumburg
As an Amazon Associate Training for Transformation earns from qualifying purchases.