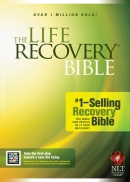 The Life Recovery Bible & Workbook
Tyndale House Publishers
David Stoop and Stephen Arterburn
The Life Recovery Bible, available in the New Living Translation, is designed for both the Christian who is seeking God's view on recovery and the non-Christian who is seeking God and answers to recovery. The Life Recovery Bible will lead readers to the source of true healing-God himself. Key features include:
Recovery notes pinpoint passages and thoughts important to people in recovery
Twelve Step devotionals discuss the important truths of the Twelve Steps in the context of Scripture
Serenity Prayer devotionals reflect on principles from the Serenity Prayer illuminated by specific Bible passages
Recovery Profiles feature recovery lessons drawn from the lives of key Bible people
Recovery Principle devotionals show how the Bible addresses many specific concerns of people in recovery
As a complement to The Life Recovery Bible, "The Life Recovery Workbook" leads the recovering addict into reflection and practical application. By placing the 12 steps of recovery into a firm biblical context, the workbook brings scriptural principles into personal focus. Contemporary "Recovery Profiles," expanded descriptions of each of the 12 steps, and open-ended questions work in unison with The Life Recovery Bible. Far more than just teaching about the 12 steps, the workbook is a guide to an in-depth working of the steps, making the principles of recovery come alive for "one day at a time" living.
2nd Edition Publication Date August 2006
As an Amazon Associate Training for Transformation earns from qualifying purchases.