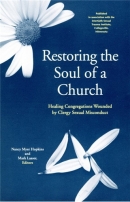 Restoring the Soul of the Church
The Liturgical Press
Mark Laaser and Nancy Myer Hopkins
The Interfaith Sexual Trauma Institute has commissioned this pastoral work which focuses on the healing of congregations following clergy sexual misconduct. The book discusses the original problem of sexual misconduct and exploitation and then focuses on those neglected "secondary" victims of abuse: the congregation, the wider community, other clergy, the wider church, the offender's family, and the pastor who takes over.
Copyright © 1995 by The Order of St. Benedict, Inc., Collegedale, Minnesota
As an Amazon Associate Training for Transformation earns from qualifying purchases.