In the Gospel According to John is recorded the story oft named "The Adulterous Woman" or "The Woman Caught in Adultery." Whatever name is given to the story, what happened was that a woman was caught in the very act of adultery and brought to Jesus to be punished. But she was NOT condemned by Jesus, but instead she left forgiven by Jesus and set on a new path of freedom.
The Story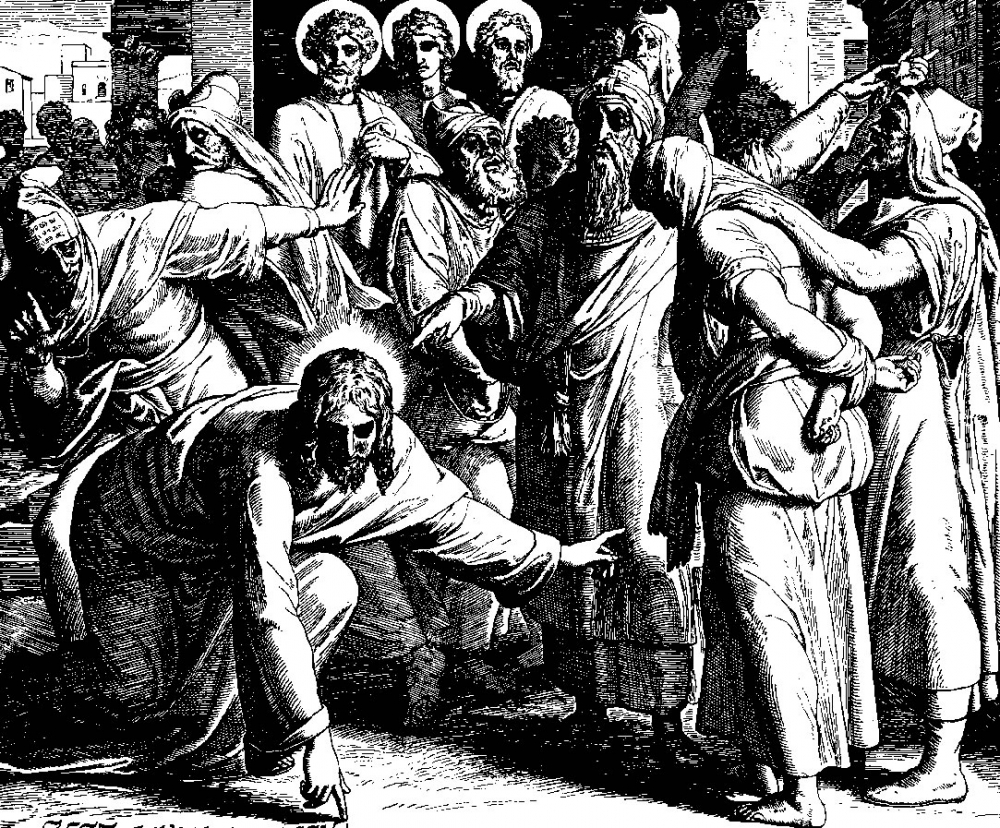 Here's how the story is told in John 8:2–11 in the New Testament of the Holy Bible:
"Early in the morning he came to the temple courts again. All the people came to him, and he sat down and began to teach them. The experts in the law and the Pharisees brought a woman who had been caught committing adultery. They made her stand in front of them and said to Jesus, "Teacher, this woman was caught in the very act of adultery. In the law Moses commanded us to stone to death such women. What then do you say?" (Now they were asking this in an attempt to trap him, so that they could bring charges against him.) Jesus bent down and wrote on the ground with his finger. When they persisted in asking him, he stood up straight and replied, "Whoever among you is guiltless may be the first to throw a stone at her." Then he bent over again and wrote on the ground. Now when they heard this, they began to drift away one at a time, starting with the older ones, until Jesus was left alone with the woman standing before him. Jesus stood up straight and said to her, "Woman, where are they? Did no one condemn you?" She replied, "No one, Lord." And Jesus said, "I do not condemn you either. Go, and from now on do not sin any more."" (John 8:2–11, NET)
Up to No Good
At this point in Jesus' ministry, the religious leaders were committed to finding a way to silence him, figuratively and literally. One strategy they used was to try to trap him in his words and actions so they would have just cause to get rid of him. This was one such occasion.
They pretended to have reverence for the Law of Moses. But in fact, it was a plot for Jesus' ruin, which they thought was full proof. No matter how he answered, so they thought, they would have him. If Jesus were to acquit the woman, they could charge him with despising the Law of Moses. If Jesus were to have the woman stoned to death, they could report him to the Romans for assuming authority that belonged only to the Romans (capital punishment).
How sad it was that rather than focusing on seeking to redeem and save souls, these religious leaders were focused on pursuing their own schemes to entrap Jesus and get him out of the way to preserve their positions of leadership and power.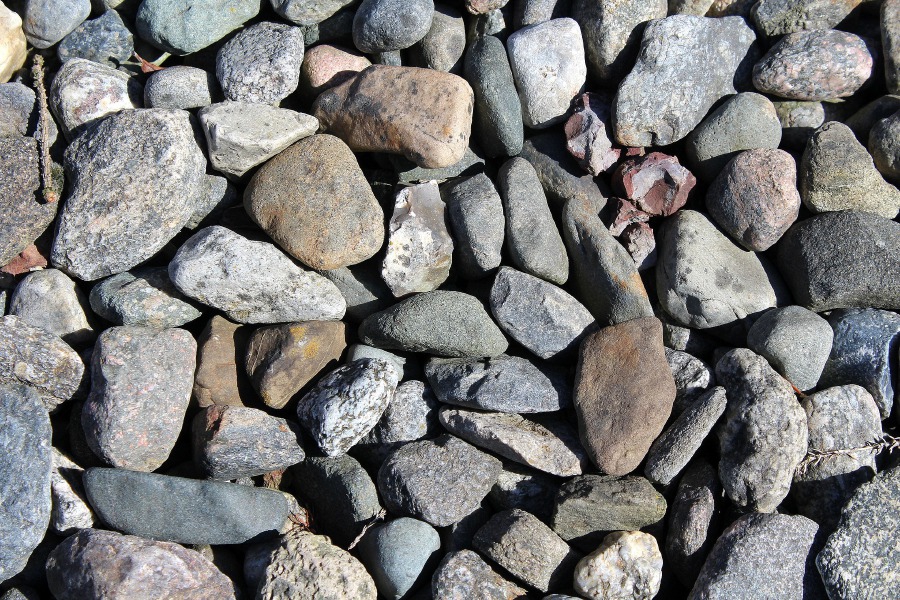 And what made matters worse was that in their plot against Jesus they even twisted the very law they pretended to uphold. For in fact, BOTH guilty parties were to be punished equally—stoned to death (Deuteronomy 22:22–24). But rather than bringing the woman AND the man "caught in the very act" they only brought the woman.
Jesus, however, met them on their own ground. He bent down and began writing on the ground. After writing on the ground, Jesus rose and confronted the woman's accusers with these words: "Whoever among you is guiltless may be the first to throw a stone at her." Then, he stooped down a second time and resumed writing on the ground. Eventually, they all left, and no stones were cast.
Jesus did not fall into their trap. He neither set aside the Law of Moses nor infringed on Rome's authority. Rather, he exposed the hidden sinfulness in each of the lives of the woman's accusers by writing them on the ground before all to see. The woman's accusers were neither interested in the Law of Moses nor in the salvation of this sinful woman. They wanted to catch Jesus in a trap, and they were willing to twist the law and sacrifice the life of this woman so they could do away with him.
Up to Our Good
But Jesus foiled them on both counts. He busted their plot. And he saved the life of this woman caught in the very act of adultery—who was in fact guilty of sin.
And that is why God gave Jesus to us. "For this is the way God loved the world: He gave his one and only Son, so that everyone who believes in him will not perish but have eternal life. For God did not send his Son into the world to condemn the world, but that the world should be saved through him." (John 3:16–17, NET)
Jesus forgave the woman rather than condemn her. But he did not stop there. He also called her to leave her life of sin, and by so doing invited her to begin a new life of purity and peace.
The Woman's End, God's Beginning
The religious leaders put the woman in a very bad situation. She had been caught in the very act of adultery and the law demanded that she be stoned to death. If they had gotten their way, her life would have ended that day.
But in fact, her life did not end. Her life was given a new beginning, "For the Son of Man came to seek and to save the lost."" (Luke 19:10, NET)
The woman offered no alibi, no excuses, no explanation, no justification, and no rationale. She did not deny anything. And she did not point a finger at anyone else. According to the Biblical record, she said only three words during this whole encounter: "No one, Lord" when Jesus asked her "Woman, where are they? Did no one condemn you?" And to her reply, Jesus said, "I do not condemn you either. Go, and from now on do not sin any more."
A New Life
No matter what your sins, go before Jesus, with no denials, alibis, excuses, explanations, justifications, or rationalizations, and ask for and accept his forgiveness. (1 John 1:9)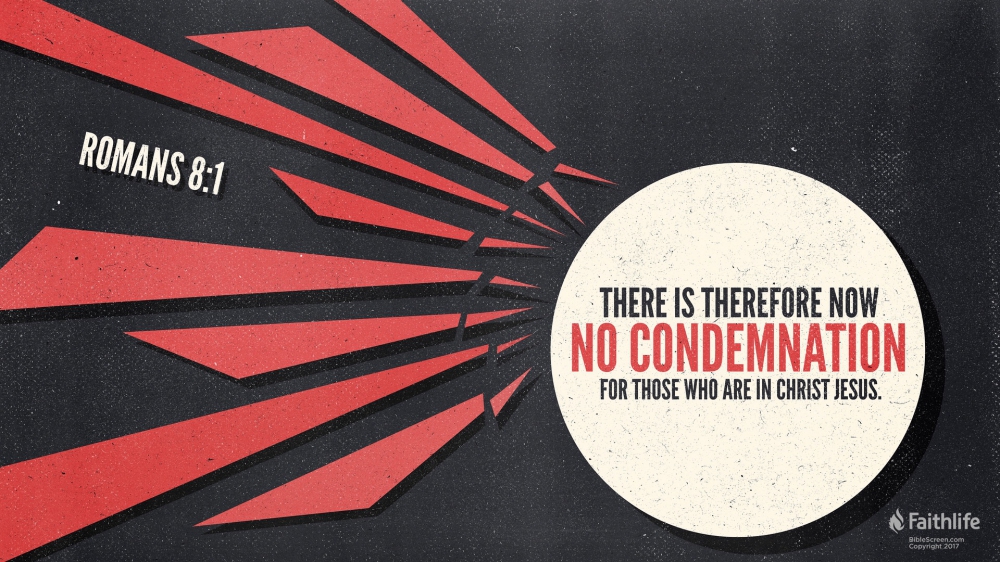 Then, go forward living no longer according to your sinful nature but living a new life in, with and by the power of the Holy Spirit. (Galatians 5:16)
"There is therefore now no condemnation for those who are in Christ Jesus. For the law of the life-giving Spirit in Christ Jesus has set you free from the law of sin and death. For God achieved what the law could not do because it was weakened through the flesh. By sending his own Son in the likeness of sinful flesh and concerning sin, he condemned sin in the flesh, so that the righteous requirement of the law may be fulfilled in us, who do not walk according to the flesh but according to the Spirit." (Romans 8:1–4, NET)
Copyright © 2022 by Training for Transformation, Inc. All rights reserved.